Gambling is illegal in the State of Texas. And yet the video slot machines called 8 liners are becoming more popular. It is not uncommon to see 8 liners for sale all across Texas. All this in spite of their questionable legality. Many 8 liner owners believe they are exploiting a loophole. But, a string of high-profile busts has turned this reasoning on its head.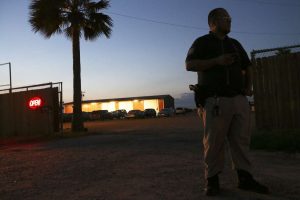 Recently, Laredo police confiscated 389 8-liner machines from four establishments. This was all part of an ongoing operation to shut down the use of 8 liners for gambling in Texas. It's important to remember that it is not the machines themselves that are illegal. It is the fact that the owners are paying out cash winnings. This year alone there have been dozens of arrests. Players want excitement. Yet, when 8 liner owners pay out cash, they are vulnerable to prosecution. So what alternatives exist?
While 8 liners are an unreasonably risky option, there is a safer way.
You can offer the excitement of gaming without risking your livelihood, business and freedom. If well set up and managed, sweepstakes machines offer a profitable alternative. We recommend you pass next time you see 8 liners for sale. Instead, get started with your own sweepstakes machines.
Running sweepstakes machines allows you to provide legal excitement. By offering fun promotions, you can provide patrons the chance to win great prizes. As long as they do not pay money to enter the competition. Instead, you can offer entries into the sweepstakes when people buy items from you. For instance, if you sell beer, you could offer 25 sweepstakes entries with each bottle of beer. Your customers could then use their entries to play digital sweepstakes games. This encourages people to spend more time at your establishment. And that means more revenue for your business.
Tejas Vending offers a full Sweepstakes program (for no upfront cost in most cases) and will set you up right so you don't have to take the risk associated with 8 liners. Contact us today!