Why choose AMI jukeboxes over Touchtunes
Why does your bar need a Jukebox?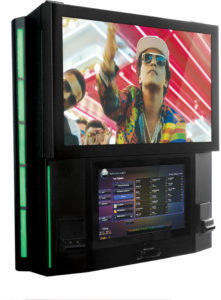 You might be wondering why your modern bar needs a jukebox. Some people believe they are a relic of the past. But, jukebox companies have innovated to bring them in line with the digital age. The new jukeboxes allow your patrons to select music on their phones. Now the customers at your bar can play the DJ and choose whatever music they like via an app.
AMI jukeboxes offer a more convenient alternative to traditional jukeboxes. It allows bar operators to manage the jukebox. And frees up your time to focus on more business-critical activities. Yet, AMI is not the only option. There is another company that offers a similar service: TouchTunes. But, TouchTunes has reportedly experienced some customer service problems. You may want to consider these before placing their system in your business.
Problems with TouchTunes
A common problem that users have reportedly experienced is their credits being wasted. You can imagine how it would sour the atmosphere of your business if customers felt like the jukebox ripped them off.
Another issue that TouchTunes reportedly experiences is that their credits are reportedly not universal. This means that they reportedly only apply to one business location at a time instead of applying to any business using similar networked jukeboxes.
When a user purchases credits, TouchTunes reportedly imposes a time limit for when the user can spend them.
They reportedly have a feature that allows users to skip ahead of the queue by paying two credits instead of one. Reportedly, the problem is that when everyone else does the same, they end up skipping ahead as well. Sometimes customers are reportedly waiting over an hour to hear their song, all the while developing a bad mood.
Finally, TouchTunes customers reportedly complain about losing credits. Buggy software means that credits are reportedly sometimes lost. It's not easy for customers to get credits refunded and many give up.
Benefits of AMI Jukeboxes
AMI has been in the jukebox business for over 90 years. Their latest jukeboxes are able to play songs and music videos as well. Besides this, they have built-in advertisement managers. This allows business owners to blend in promotional messages. This could be about daily specials or upcoming events. This means that, for bar owners, jukeboxes can double as an effective marketing tool.
This is one of the unique features that leads so many business owners to select AMI jukeboxes over TouchTunes. The AMI Ad Manager gives business owners the ability to upload custom graphics. But, they are not limited to this because they can also select from over 1,000 professional templates. No matter what you want to promote, there's a great-looking template that will help. Even with the premade template, you can edit them to match your business's branding. You can even include your logo in the final graphic.
The AMI app also comes with special geo-fencing features. This lets customers know that there is an AMI jukebox present when they enter your business. The same technology can also send information to customers, so you can alert them to promotional specials right on their phones. This all combines to allow you to create a unique experience for your customers.
Contact us here to find out about setting up your business with a great AMI Jukebox